UG Student Reyhanah Abdul-Kadir Receives the EMC Best Student Award
The University of Guyana's Earth and Environmental Studies Faculty awards the most outstanding students yearly for their academic commitment and excellence. EMC has sponsored the Best Fourth Year Student Award for the past 13 years to recognise exceptional students in Environmental Studies. This year, Reyhanah Abdul-Kadir received the award for her excellent academic performance. Reyhanah shared a few tips on how she did it and her hopes for the future.
---
Why did you study environmental science?
'I have always loved the environment and felt most at home outdoors, so studying environmental science was my obvious choice. It was also the best option to learn about threats to the natural world and ways to mitigate them.'
How does it feel to graduate with such high marks, and how did you do it?
'Achieving what I set out to do many years in advance feels wonderful and is incredibly satisfying. I did it through hard work, discipline, and perseverance, and with support from my family, friends, and lecturers. I worked tirelessly over the four-year degree program to ensure that all my assignments and exams were done to a high standard so that I could succeed.'
What advice do you have for anyone hoping to succeed as you did?
'Stay focused on your goals and put your best foot forward. Remain humble and prayerful, and always give 110 percent to anything you do. However, remember to take time to rejuvenate your mind, body, and spirit and enjoy life.'
What do you want to achieve as an environmentalist?
'I want to raise environmental awareness amongst older and younger generations and to continue advocating for inclusive and sustainable economic growth in Guyana. I also want to occupy a decision-making seat and contribute to climate and environmental policies and plans for mitigating and adopting climate change in Guyana.'
What hopes do you have for the future of Guyana's environment?
'We have made significant progress in managing our environment and, as a result, Guyana has relatively intact ecosystems, including our forests, that contribute significantly to mitigating climate change. I hope that we continue to lead in this area, that policymakers and citizens alike continue to push for climate-smart initiatives, and that more Guyanese play their part in protecting and restoring the environment.'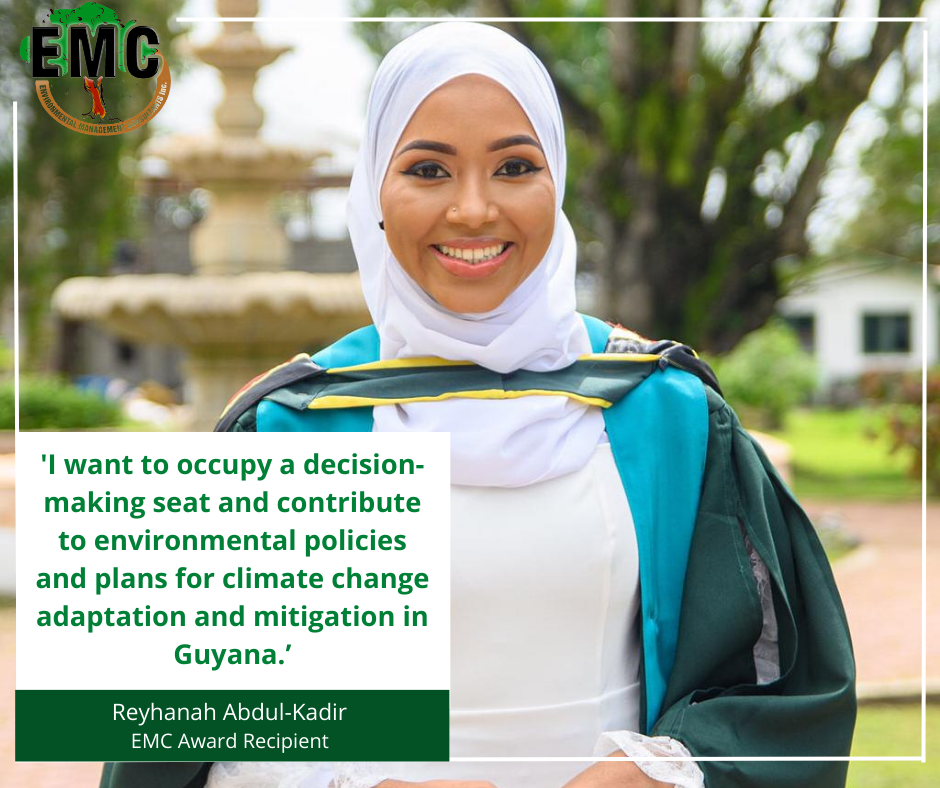 ---
Environmental Management Consultants Inc. (EMC), as an environmental service provider and promoter of green growth, works to support efforts to protect and sustain Guyana's environment.