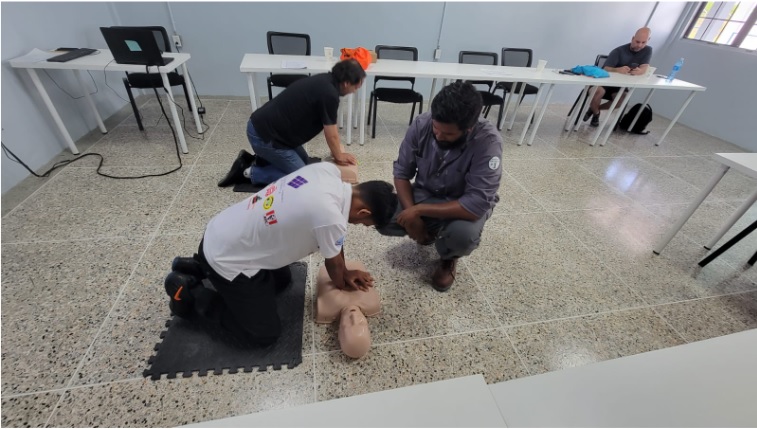 EMC Enhancing Expertise in Offshore Emergency Response
A team from Environment Management Consultants Inc. (EMC) recently took part in a Compressed Air Breathing System (CA-EBS) and Tropical Basic Offshore Safety Induction and Emergency (T BOSEIT) training. The CA-EBS training equips individuals with the knowledge and skills to respond swiftly and effectively during life-threatening situations offshore. The T-BOSIET course covers offshore-specific safety induction, helicopter safety and escape, sea survival, firefighting, and self-rescue.
Michael Philander, Bankole Holder, and Deopaul Somwaru received certification in both modules and are now equipped with the skills and knowledge to respond effectively in emergencies and ensure compliance with regulations, specifically in the offshore oil and gas context.
According to Michael Philander, EMC's Project Coordinator and Senior Environmental Officer "The training was rigorous and prepares you for any eventuality offshore. The fact that there are no nearby health and safety institutions places that responsibility on everyone onboard the vessel. This gives an added incentive to understand the right way to respond to various emergencies."
Staying current with industry safety standards is essential to ensuring the well-being of individuals in any workplace environment. EMC continues to invest in team members growth and up-to-date training to ensure their preparedness to address complex environmental challenges, provide innovative solutions, and maintain the highest safety standards.
---
Environmental Management Consultants Inc. (EMC) is an environmental service provider and promoter of green growth. EMC works to support efforts aimed at the protection and sustainable management of Guyana's environment.