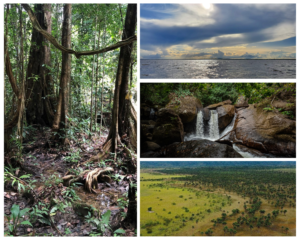 World Environment Day 2022: Only One Earth
There is Only One Earth. Let's Take Care of It.
World Environment Day is marked on June 5 every year to encourage awareness of the critical environmental issues and action needed to protect the environment. This year's theme, Only One Earth, calls for collective, transformative action on a global scale to celebrate, protect, and restore the Earth.
Guyana's rich ecosystems support one of the highest levels of biodiversity in the world. Its abundant forests, rivers, wetlands, mangroves, savannah, ocean, and mountains sustain the country's people and economy. Through decisive environmental action and leadership, Guyana has made great strides to address climate change, ecosystem degradation, and biodiversity loss. As a result, the country's ecosystems remain relatively intact and contribute significantly to the planet's health.
However, there is an urgency for more to be done to protect the environment. "The environmental issues we face are not confined to national borders. Now, more than ever, unified global action is needed to address them," says Shyam Nokta, Managing Director of Environmental Management Consultants Inc. (EMC. "Even as we think globally, local action to protect the environment must continue and this involves everyone. EMC contributes to efforts to protect and manage the environment through our work in supporting the management of Guyana's ecosystems and working with public and private organisations to help them improve their environmental performance."
"There is only one Earth. Let us work together to protect it."
---
EMC Inc; Providing Environmental Services, Supporting Green Growth.