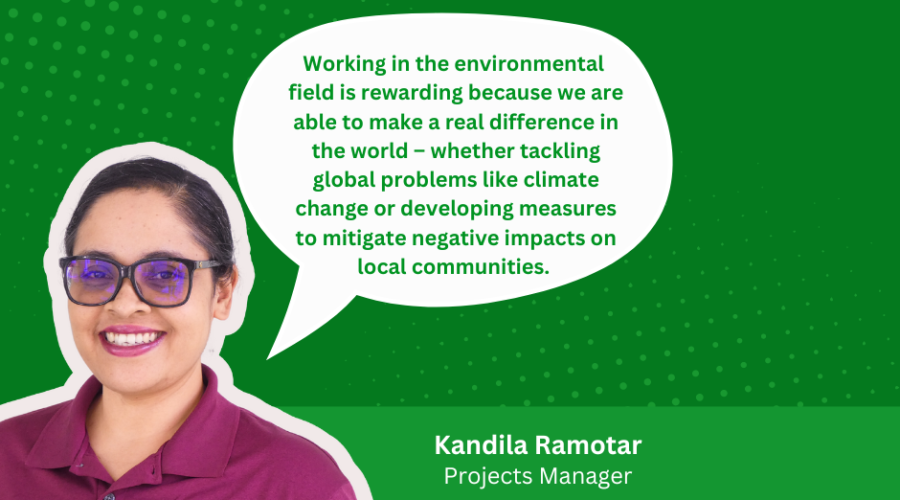 Gaining Knowledge is the First Step in Tackling Climate Change
Kandila Ramotar is the Projects Manager at EMC and plays a leading role in the execution of EMC projects, including managing project teams. She holds a Master's in Carbon Management from the University of Edinburgh and a Bachelor's in Environmental Studies from the University of Guyana.
---
Why did you choose to study climate change? 
Climate change is one of the greatest threats to life as we know it. Developing countries, like Guyana, are the hardest hit by adverse climate change impacts, and I was passionate about working in a field that tackled this issue.
How did you feel when the Low Carbon Development Strategy (LCDS) was ratified, having worked on it and climate change negotiations early in your career? 
The LCDS was a major success story of how a small country could have a big impact in managing climate change, and I was honoured to have played a role in its execution. I am confident that the new revision of the LCDS has created the framework to lead the world by example, particularly in REDD+.
How can Guyanese who want to contribute to the country's low-carbon growth do so in their day-to-day life? 
It is important for Guyanese to be aware of the achievements we have made, as a country, in fighting climate change and promoting low carbon growth. It is great for everyone to become involved, and the very first step is enhancing their knowledge.
What advice do you have for young environmental enthusiasts looking to work in the environmental field? 
Working in the environmental field is rewarding because we are able to make a real difference in the world – whether tackling global problems like climate change or developing measures to mitigate negative impacts on local communities. I would encourage all young enthusiasts pursuing this field to stick with it even when the going gets tough because, ultimately, it is worth it.
---
Environmental Management Consultants Inc. (EMC) is an environmental service provider and promoter of green growth. EMC works to support efforts aimed at the protection and sustainable management of Guyana's environment.