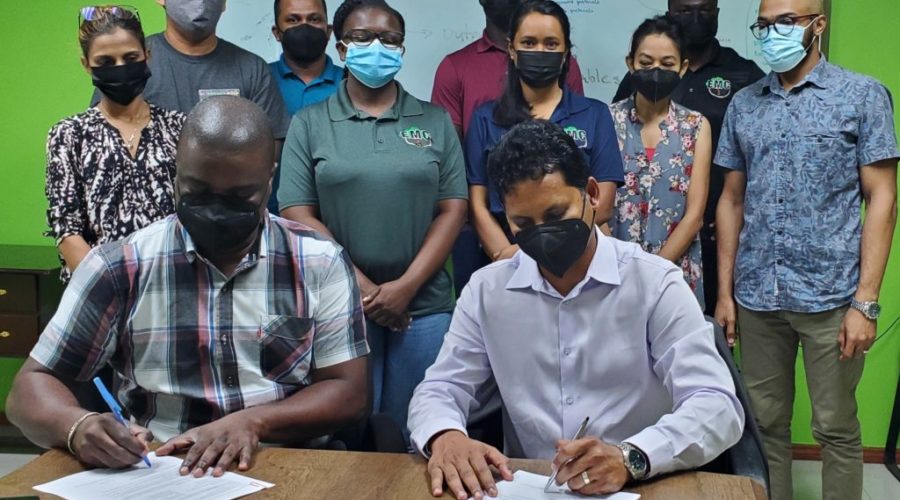 EMC Inc., CI-Guyana, and GMCS Sign MoU to Collaborate on Conservation Efforts
In celebration of World Earth Day 2022, CI-Guyana, Guyana Marine Conservation Society (GMCS), and Environmental Management Consultants (EMC) proudly announce the signing of MOUs that commit us to work together for the conservation and sustainable use of Guyana's terrestrial, coastal and marine ecosystems; to take actions to address climate change, and to advance initiatives that support low-carbon, climate resilient development in Guyana.
Renowned Guyanese poet Martin Carter wrote, "Like a jig / shakes the loom. / Like a web / is spun the pattern / all are involved! / all are consumed!" an important reminder that the most pressing challenges facing humanity consume us all, even those that often seem more complex than our individual capabilities can address. Through partnership and collective action, we have long impacted forces much greater than our individual selves. These MOUs are grounded in the spirit of such cooperation.
The power of collective action has never been more important. New patterns of partnership must be spun into the global webthat connects us to nature, and to each other. Strong alliances based on commitment, perseverance, and shared objectives are essential to building a more just and sustainable world.
So, as we celebrate Earth Day under the theme "Invest in Our Planet," we recognize and commit to our collective responsibility to reduce humanity's impact on the planet.
Happy Earth Day from CI-Guyana, GMCS, and EMC!