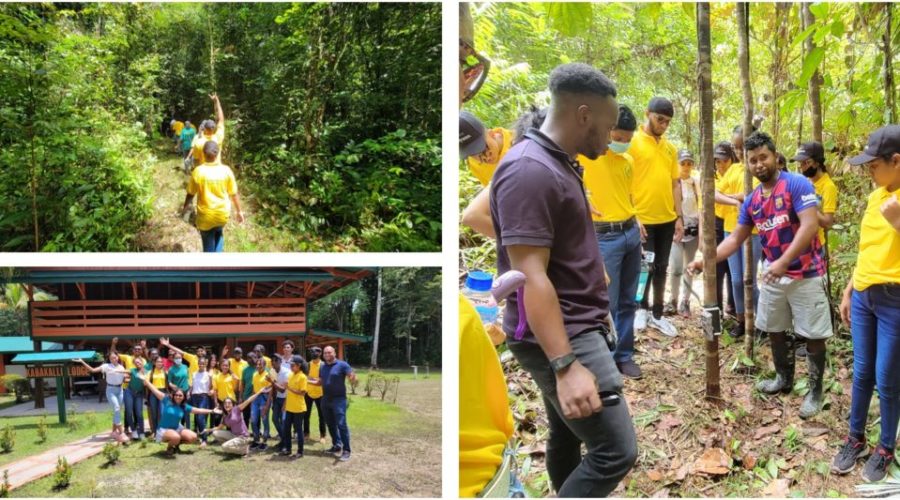 EMC Facilitates Visit Along the Essequibo River for MNR Student Volunteers
EMC Inc facilitated a visit to the Essequibo River for student volunteers from the Ministry of Natural Resources (MNR) from July 22 to 25, 2022. The visit provided the opportunity for students to gain insight into Guyana's history, culture, and natural heritage. The exercise was also a unique opportunity for students to visit a range of ecosystems and interact with those working at the forefront of environmental research, practice, and technology.
A Tour of Fort Island and its two primary structures, the Court of Policy and Fort Zeelandia, provided valuable insight into Guyana's history and architectural heritage. The students also gained a greater appreciation of the different people who have contributed to the region's history.
A visit to Saxacalli Mission, an Arawak community on the left bank of the Essequibo, and interaction with the CDC Chair of the community Ms. Helen Williams provided students with an opportunity to learn about indigenous history and culture, sustainable practices, and the interrelated nature of Guyanese society and environment.
A visit to the Saxacalli Rainforest Centre helped the students gain a deeper understanding of Guyana's ecosystems and the importance of biodiversity research. EMC Biologist Michael Philander discussed the importance of the Lower Essequibo Watershed in Guyana and shared his experiences conducting research on it, including exploring the effects of mining and deforestation on water quality. They also had the opportunity to venture on the network of trails at the Centre and to view a camera trap and its images.
This experience provided students with an opportunity to gain a better understanding of Guyana's rich natural and cultural heritage and also the country's history.