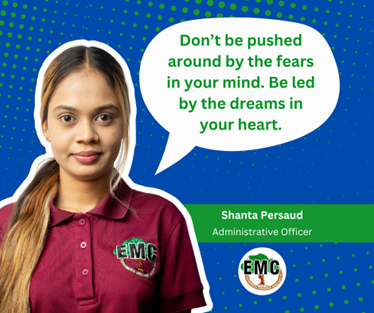 Always Seek Opportunities to Grow
Shanta Persaud is an Administrative Officer at EMC. She provides overall operational, coordination, and administrative support to the team.
"I chose the administrative and finance field because I was intrigued by the behind-the-scenes activities that made companies function. I have taken several courses, including computer studies, business, finance, accounting, and oil and gas, to advance my skills and enable me to contribute more to the team."
"At EMC, I can freely express my ideas and thoughts and know my contributions are valued. The best part of my work is the opportunities presented to me daily to learn and grow. "
"The highlight of my work at EMC is interacting with and meeting new people. I enjoy learning something new every day, whether about mangroves, our ecosystems, or how we can work together to protect them."
Environmental Management Consultants Inc. (EMC), as an environmental service provider and promoter of green growth, works to support efforts to protect and sustain Guyana's environment.