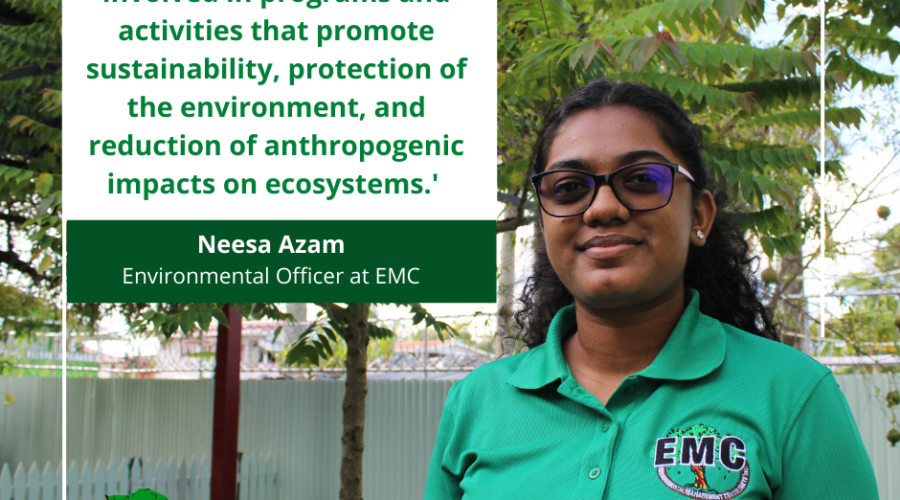 Top Three With EMC's Environmental Officer Neesa Azam
Neesa Azam is a Biologist who joined EMC Inc. in 2022. She believes that reconnecting with the natural environment is the key to understanding how it works and how best to protect it.
---
Top Three Reasons I studied Biology:
Biology is everywhere and in everything. I was always

curious about how the living world works

. Biology fed my curiosity by allowing me to

explore what fascinates me every day

.
The more I explored, the more questions I had. I chose Biology to answer these questions and better understand the environment

and

its natural processes.
While growing up, I realised that some part of the natural world is in danger of being destroyed by human activity. I wanted to be in a position to change

how people live and use the environment so that I can help protect it

.
Top Three Animals:
Parrots:

I love parrots. Their vibrant colours and exceptional ability to imitate others have fascinated me.

Spiny Flower Mantis:

I'm fascinated by the spiny flower mantis. It is a favourite because of its ability to attract prey by mimicking flowers.

Poison Dart Frog:

They are considered one of Earth's most poisonous species, but I love their bright colours and the exciting patterns they make.
Top Three Places in Guyana:
Essequibo River:

The Essequibo is the largest river in Guyana, with abundant biodiversity. It is grand and beautiful and offers lots to see and many islands to visit.

Rupununi Savannah:

The rolling grassland and endless skies of Guyana's savannahs are exceptional in their beauty and home to spectacular wildlife that includes over 800 bird species and many mammals.

Iwokrama Canopy Walkway:

The Canopy Walkway is 30 metres high and a truly unique way to experience the rainforest. A series of suspension bridges and decks lead you into the mid and upper canopy of the rainforest, where much of the wildlife, like monkeys and birds, spend their time. It's beautiful.
Top Three Moments as a Biologist
Working with students on undergraduate thesis such as water quality and medicinal properties of fruit leaves.
Researching and writing my first scientific paper with other Biologists.
Experiencing different types of natural environments in Guyana.
Top Three Reasons Anyone Become an Environmentalist:
At EMC, I have the opportunity to explore Guyana's beautiful ecosystems, learn about the environment and its natural processes, and be involved in programs and activities that help protect it. Specifically:
Working on the environment gives you the privilege of exploring the beautiful outdoors and the

diversity of Guyana's environment

. You learn about the natural world and how it works, and in this way,

reconnect with the environment

and form your own relationship with it.
Our world faces serious environmental challenges like climate change, pollution, and deforestation, to name a few. We need to adjust how we live and govern to address these challenges. Being an environmentalist allows you to actively be involved in programs and activities that promote sustainability, protection of the environment,

and

reduction of anthropogenic impacts on various ecosystems.
A career in any environmental field will help you gain a

better understanding of the world

around you, the role of people in critical environmental issues, and how to bring them

together to help solve problems

.