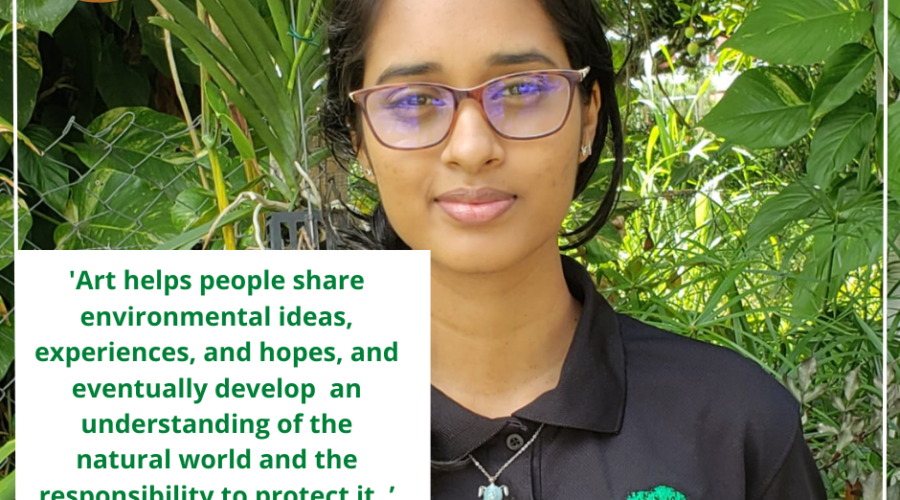 Promoting Environmental Awareness Through Art
Zoya Samaroo is an Environmental Officer at EMC. Zoya has a Bachelor of Science in Marine Biology from the University of Guyana. She is passionate about the environment and employs her creative talents to promote environmental education and awareness in Guyana.
---
Why did you study marine biology?
'As a child, my parents encouraged my love for nature and the environment by ensuring I spent most of my time outdoors, in nature. In school, I always enjoyed subjects about plants, animals, and the ocean, and at university, I gravitated towards that line of study. Ultimately, I chose marine biology because I wanted to explore Guyana's waters, learn about the plants, animals, and many creatures in our marine ecosystem, and help protect them.'
When did you discover your artistic side?
'I have always been fascinated by colours and how they blend to create new creations. I often tried to recreate images from the natural world. I moved from sketching on napkins to painting on canvas in high school. I now dip my toes into as many artistic disciplines as possible; painting, sketching, textiles, and jeweling.' 
How do you integrate art into your environmental work?
'I enjoy exploring creative ways to share environmental messages. I use different mediums like paint and crafts to show the beauty of our natural world, and some the threats they face. I also practice what I preach when it comes to sustainability. For example, I create jewellery using sustainable and reused products, use eco-friendly paint, and often reuse my canvas.' 
How can art contribute to environmental protection?
'Art is a powerful means of communication and expression. It can communicate messages that can't always be described in words. Art is also a language and can invoke emotion. Artistic expressions help people tap into their emotions and stimulate their imagination and critical thinking. Art, therefore, helps people share environmental ideas, experiences, and hopes, and eventually develop an understanding of the natural world and the responsibility to protect it.'
'At EMC, we employ creative avenues, such as painting, illustrations, graphic design, videography, and photography, to promote a better understanding and appreciation of Guyana's rich biodiversity.'
---
Environmental Management Consultants Inc. (EMC), as an environmental service provider and promoter of green growth, works to support efforts to protect and sustain Guyana's environment.