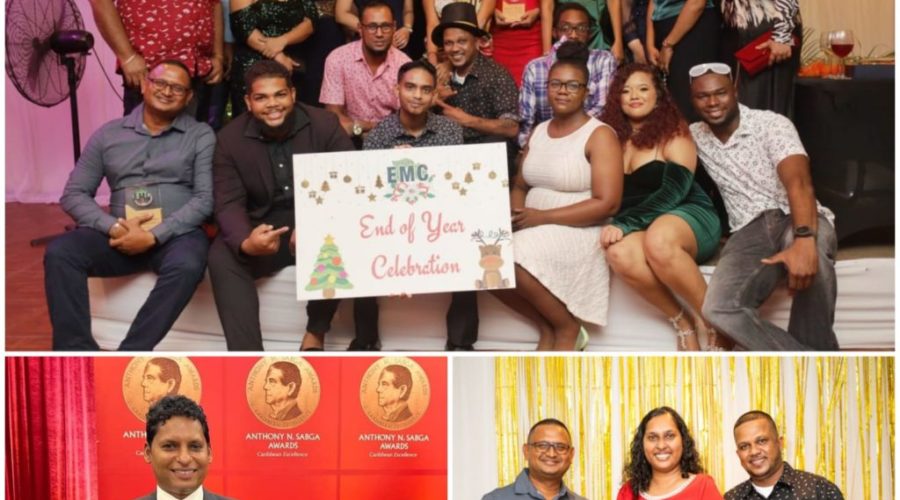 New Year, Bigger Goals: Reflecting on 2022 and Looking Forward to 2023
As we end one year and welcome a new one, it's time to look back on the moments of triumphs and appreciate those who made them possible. Here are some end-of-year quotes from a few of our team members at EMC Inc.
Shyam Nokta, Managing Director- "Another year is ending with many positives for the EMC team. We continue to grow with a strong focus on local content. Any organisation is as good as its team and I can say that over the past year, we have collectively and individually pushed our boundaries with amazing results. I look forward to EMC taking up new opportunities in 2023 as we continue our focus on providing environmental services and promoting green growth."
Sharmattie Ramnath, Administrative and Finance Manager – "It does not matter how slowly you go, so long as you do not stop."
Latchmi Mukhlall, Environmental Officer – "If you had it all figured out today, there would be nothing to learn tomorrow. Enjoy being a work in progress because you are the greatest project you will ever work on."
Arthur Adams, Environmental Officer- "Working within the Environmental field is satisfying on many levels. It allows me to participate in the development of Guyana while doing it in an environmentally safe and friendly manner."
Tishawanna Harry, Senior Environmental Officer- "Be kind to yourself."
Jumel Jarvis, Environmental Officer- "As the year ceases and a new one slowly blossoms upon us I leave you with a quote by Alfred Lord Tennyson "Hope smiles from the threshold of the year to come, whispering, "it will be happier".
Tejay Anderson, Environmental Officer- "2022 has been a year of notable concurrent growth for both EMC Inc. and myself. I hold hope that this heralds even greater success for us all in 2023 and the years to come."
Bankole Holder, Environmental Officer- "In any given moment we are faced with two options: to step forward into growth or step back into safety."
Neesa Azam, Environmental Officer- "Here's to you in this new year. May you be brave, calm, and inspired; Happy 2023!"
Deopaul Somwaru, Environmental Officer- "Being able to connect and inspire change within young budding minds has always been a goal of mine, and working at EMC has helped me to be a part of this. I look forward to continued growth in 2023."
"Celebrate endings—for they precede new beginnings." —Jonathan Lockwood Huie
Happy New Year from EMC Inc.!
---
Environmental Management Consultants Inc. (EMC), is an environmental service provider and promoter of green growth, that works to support efforts aimed at the protection and sustainable management of Guyana's environment.